Jersey gardeners in grass snake search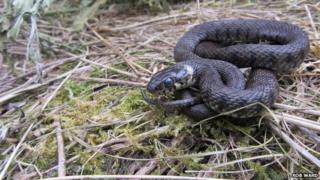 A scientist studying Jersey's rare grass snake is urging islanders to help protect the species.
Rob Ward, a PhD student at the University of Kent, says gardeners should delay turning compost heaps until October.
Female grass snakes lay 10-40 white leathery eggs of 25-30mm in June or July, and hatchlings emerge from August till September.
The harmless reptile is Jersey's only snake, but faces extinction locally.
Preventing extinction
Funded by the States Department for the Environment, Mr Ward is researching ways to save the snake.
He said the creature relies on warm, humid environments, such as those found in compost and manure heaps, to incubate eggs.
Protecting these nesting habitats is an important step in preventing extinction, he said.
"Compost and manure heaps are an incredibly valuable feature in gardens and natural areas for many species, especially so for grass snakes at this time of year.
"We're asking people not to disturb or turn their compost heaps until October when any eggs should have hatched.
"We'll also be checking a number of compost heaps for eggshells in early October, and would appreciate the public getting in touch if they find any eggshells in their heaps, or suspect that grass snakes may have been using their compost or manure heaps."
The environment department has launched a campaign asking anyone who spots a grass snake to report it on its website.