Jersey organiser in concern at event funding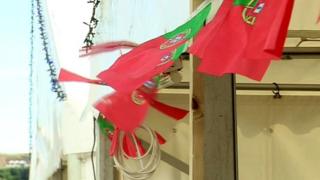 A number of tourist events in Jersey will not be able to continue due to a lack of government funds, according to an organiser.
Jason Maindonald organises the Portuguese Food Festival at Jardin de la Mer in St Helier.
He said sponsorship from the private sector was hard to get and many events receive no money from the Tourism Department.
Tourism director David De Carteret said there was not enough money to go round.
He said Jersey Tourism provides around £600,000 a year for a variety of events and the figure has not changed significantly in recent years.
Battle of Flowers
Separate funding is also available from the Tourism Development Fund (TDF), which supports the air show and Battle of Flowers.
Latest figures available show the TDF made £197,000 in grants in 2012, down from £670,000 in 2008.
Mr Maindonald said: "I'm involved with a number of festivals including the motoring festival and the Polish festival. If we continue not to get funding then some of these events are not going to happen.
"That is not just to the detriment of people in Jersey but also to the people who come over here looking to do something."
Mr De Carteret said he understood that organisers want financial support and that events were expensive to put on.