Jersey Police hunt Gorey tyre slasher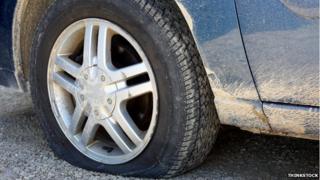 Police are hunting for vandals who slashed 13 tyres on vehicles in Grouville belonging to a St Martin-based used car dealer.
The slashings took place on La Rue A Don near Gorey in two incidents between 31 July and 14 August.
Dealers who store vehicles on public roads are the target of proposed new rules to ban the practice.
The dealer, who wants to remain anonymous, said he was not breaking the law but no longer parks in the area.
Police say no other vehicle owners were targeted.
CCTV analysis
The proposition currently lodged with the States specifically refers to residents' concerns over a St Martin motor trader.
It also says the issue is felt in other parishes.
The new rules will be debated on 22 September and, if passed, become law a week later.
Traders who continue to use public roads and car parks for storage after that date will be liable to fines of up to £5,000.
Transport Minister Kevin Lewis, who lodged the proposition, told BBC News the slashed tyres were a matter for the police.
The police said tyre slashing on this scale was "uncommon" in the island.
An investigation is under way including house-to-house inquiries and CCTV analysis, and witnesses are encouraged to come forward.