Jersey group introduces code for birdwatchers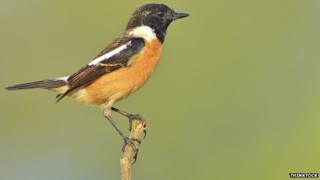 A new code of conduct for wildlife enthusiasts has been drawn up to help protect rare birds.
The guidelines, produced by the Societe Jersiaise and the Birds on the Edge campaign group, are designed to allow birds to feed and breed in safety.
The code urges people to stick to footpaths and bird hides.
It also asks them not to use a flash on their cameras when taking photos and to avoid luring birds out with recorded birdsong.
As well as advice the code reminds people that disturbing wild birds and their nests is an offence and asks islanders to report anyone spotted doing so.
Birdwatching and photography code
The code says: "Many bird species in Jersey are endangered locally or globally. Their survival depends on their chances to feed and breed safely."
Stay on roads, footpaths and in bird hides to avoid going too close to birds or walking through their habitats
Do not use flash when photographing birds
Do not use playback or birdsong recordings to lure hidden birds out or to make them sing
Disturbing a wild bird, its nest or nesting area, is an offence
Report observations in the record books at the hides
If you witness anyone who you suspect may be illegally disturbing wildlife, phone the police
Cris Sellares from the Birds on the Edge project said while people may have good intentions, their actions disturb wildlife.
She said: "Research has shown in other countries that yes, there is a disturbance that is a negative effect on some of the birds.
"We have based our guidelines on much larger guidelines in other countries. We did not want to put people off, so we have made something that is hopefully very approachable."