Bean name-calling 'unlikely' to spark racism tribunals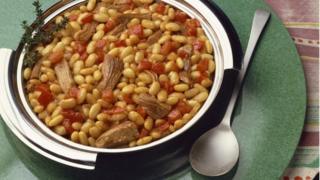 Calling someone a "bean" is unlikely to fall foul of Jersey's new race discrimination law, says an employment expert.
The legislation, Jersey's first anti-discrimination law, comes into force on Monday.
The term "bean", a colloquial reference to Jersey's traditional bean stew, is seen by some as derogatory.
A local press report recently suggested calling someone a bean at work could prompt complaints under the new law.
Jean Marie Renouf, a Jersey employment lawyer, said this was unlikely but it would depend on the context.
"It comes down to to whether the person is objectively offended," he told BBC Radio Jersey's Politics Hour.
"It's important people are quick to say they are uncomfortable with something.
"That puts the onus on the employer but also gives them the opportunity to do something."
'Harassment'
Social Security Minister Francis Le Gresley said he understood small businesses were concerned by the new rules.
"It's only a minefield if you make it one," he said.
"What the law provides is a clause, that I was particularly keen appeared, about the interpretation of harassment.
"In the workplace, if it seems quite common to say 'bean' or 'jock' then that's fine, but if someone takes offence and requests that it stop and it doesn't then that might be harassment."
Senator Le Gresley said future anti-discrimination measures related to sex or sexuality would be enacted much more quickly than the race discrimination rules.
Toni Roberts, of the Community Relations Trust, said there was "an enormous amount of information" available to help small businesses prepare.