Revised Co-op plans could see Premier Inn come to Jersey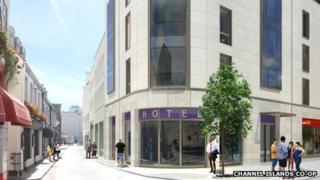 A hotel could be built in St Helier under new plans submitted by the Channel Islands Co-op.
The revised plans for its supermarket site at Charing Cross comes after Jersey's planning authority rejected an earlier proposal.
New plans include a 91-room Premier Inn hotel and an upgraded Co-op supermarket.
The company said the £12m scheme would be a major boost to tourism and a gateway to the centre of town.
The Co-op's original proposals were rejected in August 2013.
As part of the Co-op's revised designs, the upgraded supermarket would include a unit to let and nearby Pitt Street would be a traffic-free space for public art, the organisation said.
The Co-op said more than 80% of the building works would be by Jersey-registered companies employing about 300 people during the construction phase.
After the initial rejection, campaigners against the plans came up with an alternate scheme and have been raising funds to buy the site.
Heritage groups' alternative proposals would see all six listed buildings in the area restored and the current supermarket demolished and replaced with a three-storey building.