Concern over new Jersey hospital plans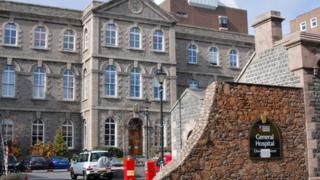 The States should rethink plans to develop Jersey's new hospital over two sites, a scrutiny panel has said.
The proposal includes refurbishing parts of the General Hospital in St Helier and building a new Overdale Hospital at Westmount.
Deputy Jackie Hilton, chairman of the panel, said she was "unconvinced that a dual site is the right way forward".
The panel has recommended the States debate plans for a dual-site hospital in the near future.
Although the plan was for the Overdale site to be completed by 2019, the overall hospital project would not be completed until December 2024 at a cost of about £297m.
The health, social security and housing scrutiny panel said the 10-year time-frame was "unacceptable".
Its members have called on the Council of Ministers to review the timescale and the budget to ensure "any new hospital will meet the future needs of the island".
The panel said buying two hotels in Kensington Place would make a "sensible strategic investment" for the States, as well as providing space to develop the existing site.
The role of the panel is to scrutinise draft legislation, policies and other matters of public importance.
A health department spokesman said: "We welcome the review by Scrutiny into these very important areas.
"We will be studying the report in detail and will issue a full response in due course."