Jersey deputy's 'sexist Twitter comments unacceptable'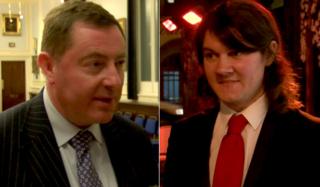 A St Helier politician has been expelled from his party over what have been described as "offensive" tweets.
Deputy Nick Le Cornu's comments are believed to be about someone expected to stand in October's election.
Reform Jersey, the island's only political party, said the sexist tone of the posts were not acceptable.
Deputy Le Cornu has not responded to calls from the BBC, but on Twitter described the reaction to his comments as "faux indignation from the right".
The party's constitution allows it to dismiss any member for disciplinary reasons.
'Quite astounding'
The comments appeared on Deputy Le Cornu's Twitter account on Thursday.
Deputy James Baker, who is not a party member, has written to him complaining about sexist and unacceptable language and demanding an apology to the subject of his comments.
Deputy Kristina Moore, who is standing for a re-election after a serious illness, said she believed the comments were directed at her.
"I gathered it had to be about me, and it was really quite shocking to see," she said.
"It was so blatantly sexist. It was quite astounding really.
"I have spent all my professional life in the public eye and sometimes you expect criticism but the comment went above that. I am pleased that Reform Jersey has dealt with the issue so quickly."
Announcing the news on his Facebook account Sam Mezec, chairman of Reform Jersey, said: "What Deputy Le Cornu said is completely unforgivable and I utterly deplore it.
"As chairman, I suggested that he should resign from the party and, when he declined to, I then proposed that he be expelled from the party. The party management committee agreed."