Jersey States 'not doing enough' to tackle radon risk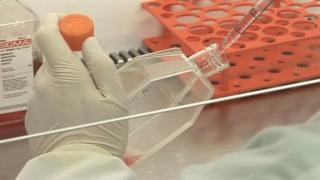 Not enough is being done to tackle radon gas levels in Jersey, according to a new report by the environment scrutiny panel.
Panel chairman, Deputy John Young, said a lack of "joined-up thinking" by the government contributed to a lack of effective action.
The report said there were higher levels of the gas in Jersey.
Deputy Young said radon was linked to lung cancer under prolonged exposure, especially in smokers.
He said there was a lack of communication between the health and environment departments.
Jersey is one of several areas where granite is found where higher levels of radon than normal are found.
Previously, environment minister Deputy Rob Duhammel said there were a number of studies into radon in Jersey.
He said: "There is work being undertaken to assess the quality of indoor air but work on that will take a number of years to work out.
"Over and above that there is legislation being looked at to determine whether radon is as big of a problem as people think it might be."
---
About radon
Radon is a natural radioactive gas, which has no taste, smell or colour. It is produced by the radioactive decay of uranium, which is present in all soils and rocks in small quantities.
In some areas where granite is found, such as Jersey and parts of the south-west of England, higher levels are recorded, especially around the edges of granite intrusions.
Radon can travel through faults and voids in underlying rocks and soils until it escapes into the air.
Source: Environment Scrutiny Panel Radon report
---
Deputy Young said the link between lung cancer and prolonged exposure to higher levels of radon had been known since the 1980s.
Jersey was found to be a high-risk area during that time. The latest scrutiny report concludes not enough is being done to raise public awareness of the risks.
Deputy Young said there was no consistent message to encourage householders to have their properties tested for radon despite it being recommended in a 2012 report carried out independently by a UK expert .
The panel published a number of recommendations for ways the situation could be improved.
These include pulling information about radon measurements together in a consistent format. It also recommended that formal advice should be published recommending that all ground floor dwellings should be tested for radon.