Jersey care inquiry: Church child labour records sought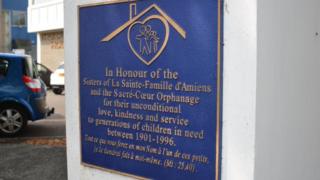 The Independent Jersey Care Inquiry has contacted the Catholic Church in Jersey over claims of child labour in a textile factory run by nuns.
A witness told the panel on Tuesday that she worked unpaid aged six, labelling jerseys in the 1950s.
Later on Tuesday the inquiry announced it was searching for missing Sacre-Coeur Orphanage records.
In July, Children's Services director Tony Le Sueur told the inquiry Catholic records had been removed from Jersey.
He said records related to homes run by voluntary organisations such as the Church or Barnardo's would have been sent back to England or France when the voluntary homes closed.
Child labour
Mr Le Sueur also told the panel he was aware of the textile factory at the Sacre-Coeur Orphanage and said the girls were paid.
Tuesday's witness, referred to as "Mrs A", said girls worked in the factory after school and on Saturdays and were not paid.
In the announcement a member of the inquiry team said: "Further to this morning's evidence, the first to deal with Sacre-Coeur, the inquiry is going to be attempting to track down documents from the home.
"It seems likely there are more potential witnesses from this home.
"It is believed the documents may be in France, but efforts will be made through the Catholic Church to trace them."
It is the first time detailed evidence has been heard about the use of child labour on the island.
The team say they are very interested to hear from anyone with more knowledge about the old knitwear factory at Sacre-Coeur.