Reform Jersey leader quits Twitter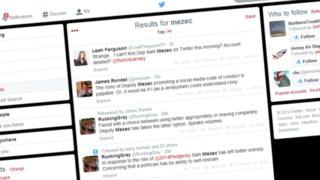 The chairman of Reform Jersey has deleted his Twitter account following an online spat with critics.
Deputy Sam Mezec had exchanged heated tweets with former health minister Jim Perchard on Monday, but all traces have now been deleted.
Days earlier, Reform Jersey co-founder Nick Le Cornu was ejected from the party over an offensive tweet about a fellow States member.
Following that incident, Deputy Mezec called for an online code of conduct.
'Slit your wrists'
Reform Jersey was founded this year and owes much of its high profile to a strong social media presence.
Deputy Mezec deleted his Twitter account, however, following a complaint, now withdrawn, to the States disciplinary committee from Deputy Kristina Moore.
She was the target of Deputy Le Cornu's tweet last week but her complaint was about Deputy Mezec's tweet to Jim Perchard.
In the twitter exchange, Mr Perchard asked Deputy Mezec whether he practiced what he preached regarding online behaviour.
Deputy Mezec replied he would not take lectures from Jim "slit your wrists" Perchard.
That was in reference to a comment Mr Perchard is reported to have made in the States a few years ago to another then-politician, Stuart Syvret.
Deputy Moore has now withdrawn her complaint and, according to Deputy Mezec, has apologised to him personally.
He told BBC News he had "had enough" of receiving abuse on Twitter and his comment to Jim Perchard was misunderstood.
Jersey holds its general election on 15 October.