Jersey care inquiry: surge in Sacre-Coeur witnesses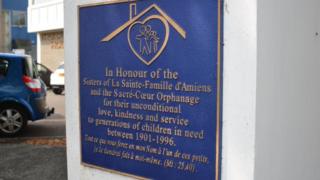 The Independent Jersey Care Inquiry team says there has been a "big response" to media reports about the Sacre-Coeur Orphanage.
A witness on Tuesday described harsh treatment and child labour in the 1950s at the home run by nuns.
The inquiry is investigating abuse allegations from 1945 to the present, focused on the Haut de la Garenne home.
An inquiry team member said some witnesses had not realised the inquiry also covered Sacre Coeur.
Tuesday's witness described being put to work in a knitting factory at Sacre-Coeur aged six, prompting an appeal for more former residents to come forward.
Several have already come forward.
"This includes a number of witnesses from different periods who had not realised that the inquiry's remit was wider than Haut de la Garenne," said the team member.
"A member of the order which ran the home has also been in touch and is offering to help trace documents.
"The inquiry is also keen to hear from anyone with further information about children working at the knitting factory."
The spokesperson said the knitting factory was known as Sumerlands and appeared to have been a collaborative venture between a private company and the orphanage.
The inquiry continues.