New Fort Regent 'vision' unveiled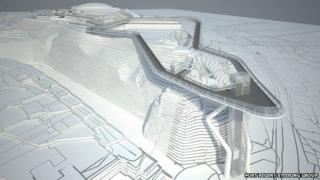 Proposals have been unveiled in a bid to return St Helier's Fort Regent complex to regular use.
The former fort, an early 19th Century landmark overlooking the town, currently houses a gym and hosts occasional live events.
Unveiled on Friday, the new design includes access via a "sky walk" protruding over the current Snow Hill car park in town.
The potential cost could be up to £85m.
Dimly lit 'abyss'
Focus groups described Fort Regent as a dimly lit "abyss" that was too difficult to reach from town.
The plan is to build a free-standing lift tower at Snow Hill to carry pedestrians up to a partially glass-floored walkway connected to the fort.
Within the fort there would be a variety of "zones" including an extreme sports area, conference centre, hotel and arts piazza.
Deputy Eddie Noel, chairman of the Fort Regent Steering Committee, said the plans need to be tested to see if they were "deliverable and affordable".
"We also need to understand whether private sector partners can be encouraged to invest and provide activities at a regenerated Fort Regent and how the facilities will be operated and managed," he said.
"While high-level costings have been produced, they are currently being further developed."
Fort Regent was built as a military installation, but was converted into a leisure centre, featuring a prominent white dome, in the 1970s.