Jersey election starts as pre-poll voting opens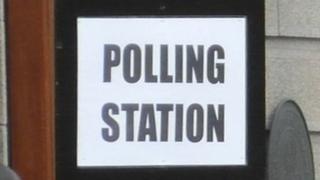 Pre-poll voting has started in Jersey, two weeks before the general election on 15 October.
A polling station at St Paul's Centre will open weekdays from 08:00 to 18:00 BST until Monday 13 October.
Anyone registered to vote is able to cast their ballot at St Paul's Centre regardless of their district.
Organisers said it was a way of encouraging more people to turn out and vote in an island with a low election participation.
Constables referendum
Jersey's first general election will be held on Wednesday 15 October and will see all three types of politician elected on the same day.
Senators are elected to represent the whole island, deputies represent their district and constables are elected as the head of their parish and also have a seat in the States.
There will also be a referendum over whether constables should have a seat in the States as an automatic right. This will be held on the same day as the election.
Director of Services at the Judicial Greffe, James Lambert, said: "Islanders don't need a reason to pre-poll vote.
"If you are registered to vote, then you can simply come along to St. Paul's Centre before work or during your lunch hour, for example, and cast your vote."
To vote, people need to bring photo ID such as a driving licence or a passport.
The staff at St Paul's Gate will hand out separate voting slips for the senator, constable and deputy elections, as well as the referendum.
Ballot papers would then be sent to the islander's electoral district for counting, officials said.
Pre-poll voting will be available at Communicare in St Brelade from 09:00 to 14:00 BST on Saturday 4 October and at Trinity Youth Centre from 09:00 to 14:00 BST on Saturday 11 October.