Jersey care inquiry: Carer abused girl, six, in group home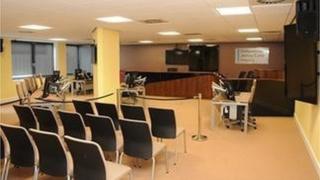 A woman who reported being sexually abused from the age of six says officials should have spotted something was wrong.
At the Jersey care inquiry on Friday, "Miss D" described her time in the Clos des Sables group foster home.
From the 1960s to the 1980s, group homes housed small numbers of children in "families" run by paid carers.
One of those "house parents", Leslie Hughes, sexually abused children in his care over a 16 year period.
He was jailed for three years in 1989 after pleading guilty to a number of offences.
Self-harm
Miss D said she was assaulted by Hughes in the 1980s on her first night at the home when she was aged six.
Over the next few years the assaults became more frequent and severe but stopped when she was about ten, she said.
The panel heard her child care officer, Marnie Baudains, became concerned when Miss D began self-harming, drinking and taking drugs when she was 15.
It was then she told Mrs Baudains everything that had happened to her.
Miss D told the inquiry she was speaking up because she did not want other children in care to go through the same thing.
She questioned why no-one in the care system recognised her behaviour was a sign things were not right at the group foster home.
The Independent Jersey Care Inquiry is investigating allegations of abuse in the island's care system from 1945 to the present day.
The inquiry continues.