Jersey Care Inquiry: Lenny Harper details leak fears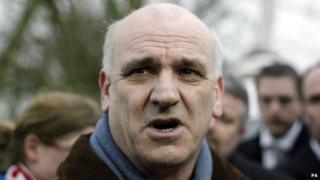 The details of child abuse victims may have been leaked after the Jersey Care Inquiry failed to post sensitive documents securely, a former senior investigator fears.
Ex-Jersey police chief Lenny Harper looked into reports of child abuse on the island in 2007 and 2008.
Officials sent him his 200-page confidential statement to sign, but he said it appeared to have been opened and was not sent by recorded delivery.
The inquiry said it was investigating.
'Lot of distress'
Mr Harper has given evidence at the inquiry and said the document had contained "the most sensitive information".
He said the post office in the UK had resealed the package in a plastic bag because it had been damaged and inserted a letter of apology for the condition.
Mr Harper said: "There are details of alleged abusers, there are details of many victims and what victims were saying happened to them.
"There are details of allegations of corrupt behaviour by officials in Jersey and many other details of a sensitive nature.
"It could cause a lot of distress to a lot of people.
"My main concern obviously would be the victims who gave accounts of what had happened to them in confidence at that time."
The inquiry said it could not comment further at this stage.