Jersey election: Pre-poll voting attracts 2,000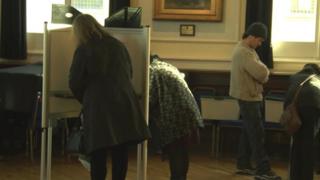 Just over 2,500 people have turned out to vote early in Jersey's first general election.
Voting opened at the St Paul's Centre in St Helier on 1 October and was open to anyone registered to vote, regardless of their home district.
Despite an increase in marketing and polling places being open on Saturdays, the number of people voting early is about the same as 2011.
There are 62,539 people registered to vote on 15 October.
The polling station at St Paul's Centre has opened every weekday from 08:00 BST to 18:00 BST until Monday 13 October, and on Saturdays until 14:00 BST.
Organisers said it was a way of encouraging more people to turn out and vote in an island with low election participation.
Current Social Security Minister, Senator Francis Le Gresley, who is not seeking re-election, said despite the low turnout pre-poll voting was important.
He said: "The opportunity to pre-poll a vote in an election is essential for those that might be out of the island or otherwise committed on Election Day.
"The relatively low number of pre-poll votes is not necessarily an indication of lack of interest in the election itself."
---
General election
Jersey's first general election will be held on Wednesday 15 October and will see all three types of politician elected on the same day.
Senators are elected to represent the whole island; deputies to represent their district; and constables are elected as the head of their parish and also have a seat in the States.
There will also be a referendum over whether constables should have a seat in the States as an automatic right. This will be held on the same day as the election.
---
Senator Le Gresley said there were other ways of tackling low voter turnout.
He said: "To improve voter turnout there need to be more contested elections, particularly for the Constable's seats.
"Party politics would ensure that this would be a true general election, thereby giving electors an opportunity to have their say on the performance and policies of the current government and the ability to replace those currently in power if so desired."