Jersey election 2014: Planning minister loses seat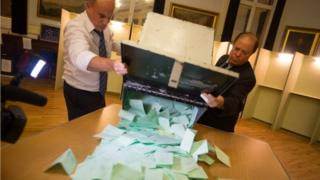 Jersey's Planning Minister Rob Duhamel was one of seven politicians to have lost their seat in the States in the island's first general election.
Senator Sarah Ferguson was beaten by Senator Philip Ozouf to the eighth and final senatorial place by 262 votes.
Deputies Sean Power and John Young lost out in their bids to become senators.
Deputies Gerard Baudains, Nick Le Cornu and John Le Bailly, who was challenging for the post of St Mary's constable, also lost out at the polls.
Deputy Duhamel said of his election loss: "It looks like I mis-read the public. There was a lot of tactical voting going on."
Senator Ozouf said: "It has been a very difficult election, I said from the start I would face the toughest task of all the candidates in being the treasury minister in a recession. To win a fourth term is something I am immensely proud of."
Health Minister Anne Pryke beat former constable chairman Hugh Raymond by just sixteen votes in the Trinity deputy election to keep her seat.
This was the first time she had faced a contested election in her political career.
Restaurateur and former BBC Radio Jersey presenter Murray Norton was the first candidate elected, winning in St Brelade district one with 545 votes.
Former St Brelade constable, Mike Jackson, came second with 452 votes and Angela Jeune came third with 173.
Deputy-elect Norton said he was really proud of the team that helped him get elected.
He said: "I have been in radio for near on 30 years of my life and during that time I have reported on this election result a number of times.
"I have been very much on the sidelines, but I think I can communicate, I think I have opinions and ideas and I want to represent people and improve their lives."
Three of the eight candidates standing for Jersey's only political party, Reform Jersey, were elected to the States. This is the first time in modern times that candidates standing for a registered party have been elected.
Deputies Sam Mezec and Geoff Southern were re-elected in St Helier number two and Deputy Montfort Tadier was re-elected in St Brelade district two. In their previous election all three stood as independents.
The yes campaign won in a referendum about the future role of the constables and whether they should have the automatic right to sit in the States.
There were 15,069 votes in favour and 9,061 against having the constables in the States, which is not bidding on the government.
A third of Jersey's politicians were elected unopposed a month ahead of the election, including 11 of the 12 constables.
The only parish to have a contested election for constable was the island's smallest, St Mary.
Senators are elected to represent the whole island; deputies to represent their district and constables are elected as the head of their parish and also have a seat in the States.