Jersey Care Inquiry: Witness says privacy probe 'red herring'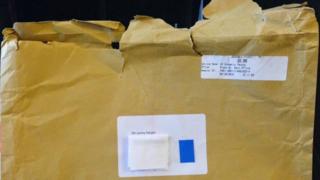 A Jersey care inquiry witness whose address was published by a journalist says official focus on the reporter is "a red herring".
The publication, on Twitter, followed news that sensitive inquiry mail to the witness, former deputy police chief Lenny Harper, was tampered with.
Leah McGrath Goodman, a US-based journalist, tweeted a picture of the envelope, showing Mr Harper's address.
Ms McGrath Goodman said the tweet was deleted "in a minute".
The damaged package contained Mr Harper's sworn affidavit to the inquiry, including names of abusers and victims, and had been sent to him to be signed and returned.
Journalist apologised
On Tuesday, inquiry chair Francis Oldham issued a statement which read: "The inquiry is considering an alleged serious breach of privacy by which a journalist released into the public domain confidential witness information.
"We will not be responding to any questions at this stage until that is concluded."
Mr Harper, who took the original photo of the damaged envelope, told BBC News Ms McGrath Goodman had apologised.
"I'm not worried and I don't care," he said.
"Anyone in Jersey who wants my address, I'm not hard to find.
"I think it's a red herring. I don't see why she should be investigated and I'm not sure it's a matter for a committee of inquiry in any event.
"I think of greater concern is it would appear as if my statement might have been looked at on its way to me."
The inquiry said it used the regular postal service because it did not want to "draw attention" to packages.
Ms McGrath Goodman said the tweet controversy distracted from the damaged package and the inquiry had not contacted her.
"They should have called me if they're worried and they haven't," she said.