Channel Islands Air Search returns to the skies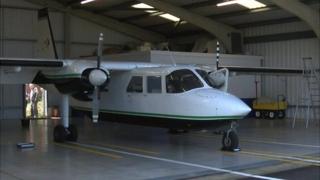 Channel Islands Air Search has carried out its first mission since its plane was written off in a crash landing on Jersey's north coast.
Jersey Coastguard raised the alarm after a red kayak was spotted in Sorrel Bay, on the north coast of Jersey.
The search for someone possibly lost at sea was called off after about an hour.
Air Search got permission to fly this month, after the release of an Air Accidents Investigation Branch report into the crash, last November.
Referring to the search operation, a coastguard spokesman said: "The kayak was quickly spotted and a search was made from Gronez point to St Catherine's breakwater.
"Finding nothing the search was extended further off shore. Visibility was good but nothing was spotted.
"Weather conditions were challenging with breaking rough seas and wind gusting to 45 knots."
Air Search has ordered a replacement Islander plane, kitted out with search equipment including an infrared camera, but has been using an Islander without the equipment, for training flights and for the call out on Tuesday.