Jersey tobacco product displays banned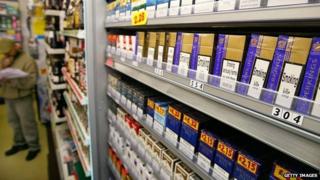 All tobacco products in Jersey will have to be hidden from public display, after the introduction of a new law.
Customers will still be able to purchase cigarettes and tobacco in the usual way but from 30 October, they will not be on show.
People who look younger than 18 will also be asked for ID just to see tobacco products in future.
Jersey airport has created an area dedicated to tobacco products, only available to over 18s.
'Protecting children'
Head of health improvement, Martin Knight, said the aim of the legislation was to reduce smoking among young people.
He said: "There is good evidence that gantry displays in shops, with their strong branding, can trigger purchases by adults trying to stop smoking.
"The main reason for these changes is to protect children from this form of tobacco promotion."
The States of Jersey environmental health team has been working with retailers over the past 18 months to help them prepare for the change.
James Filleul, spokesman for the Channel Islands Tobacco Retailers Association said: "While we don't agree with the principle of the ban, we have worked with the health authorities to make the ban as practical as possible to implement."