Jersey's chief minister returned unopposed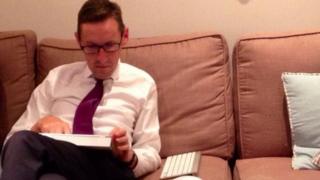 Jersey's current chief minister has been returned to the role unopposed, after no other candidates came forward by the deadline.
Senator Ian Gorst was the third person to be elected to become chief minister since the role was introduced in 2005.
He is the first sitting chief minister to face re-election, as the previous two incumbents retired in office.
Senator Gorst stood for the States as a senator in October, topping the poll with 14,037 votes.
The only other States member to say he would stand in opposition to Senator Gorst was Senator Alan Maclean, who changed his mind on Friday.
In an email to States members and the media, he said he wanted to fully support Senator Gorst.
He said: "Senator Gorst has received a clear endorsement from the electorate and my focus now will be to fully support him.
"I further hope, with members' support, to be instrumental in assisting Senator Gorst in establishing a balanced and effective Council of Ministers to best serve the interests of the island."
---
Analysis
Senator Gorst was the first chief minister to be re-elected and as he topped the poll anyone challenging him was going to face a tough job beating him.
I have spoken to Senator Maclean and he tells me he is likely to be offered the job of treasury minister.
I have spoken to a member of the island's only political party, Reform Jersey, and they say they would back a challenger but it seems attempts to find another candidate have proved fruitless.
Political reporter, Chris Rayner
---
He will have to outline his plans as chief minister and how he wants to set up his ministries at a States meeting on 3 November.
Senator Gorst will officially start his second term as chief minister after all 10 ministers have been appointed on 6 or 7 November.
For the first time the chief minister will be able to define how he wants the council of ministers to look, as it is no longer prescribed by law.
He will propose the ministers he hopes to take those offices, but any other member is free to stand against the preferred candidate for each role.