Jersey GPs introduce video appointments scheme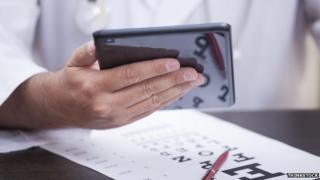 Allowing patients to meet with their GP over a video link would benefit teenagers, according to a doctor.
A new mobile health app, called Babylon, was launched by industry body Digital Jersey and allows patients on the island to manage appointments.
Dr Phillippa Venn from Cleveland Surgery said it may allow them to reach patients who are reluctant to come to the surgery.
Five surgeries, reaching about 50,000 patients have signed up to the scheme.
Dr Venn said: "We know there are certain hard to reach client groups, like teenagers, who are familiar with this kind of communication.
"It may be that there is an avenue where instead of being seen coming in to a doctors surgery, they could access the medical support."
---
About the app
The app is created by UK health company Babylon and Jersey is the first jurisdiction to roll it out
Patients will only be able to select their existing surgery when using the app
The surgeries currently signed up are: Island Medical Centre, Castle Quay Surgery, Health Plus, Cleveland Clinic and Lister Surgery
It allows patients to access health statistics and records quickly and conveniently
---
The app, which is being launched in November, will also allow people to ask doctors questions online without having to go in for an appointment.
In Jersey patients pay to see the GP, the price varies depending on the surgery but is about £35 per consultation on average.
The app will be free to download but each surgery will be able to decide how much it will charge for each service.
Paul Masterton from Digital Jersey said online appointments would never replace in person appointments.
He said: "It's more convenient, more effective and efficient to be able to speak to your doctor in a video consultation.
"The GP will then decide if they need to see you face to face. This is an addition to the service."
Jonathan Williams, Director of Social Security at the States of Jersey, said it would give people more choice in how they used their doctors.