Jersey RNLI to add Easter lifeguard cover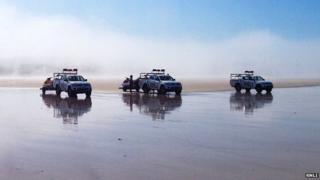 Beaches in Jersey will be covered by lifeguards from the RNLI from Easter for the first time.
The RNLI currently provides cover through the summer season but has decided to extend it to cover Easter and the half-term break.
The charity said the decision was made before Sunday's tragic accident in Cornwall in which three surfers died.
The RNLI said visitor numbers would be taken into account when it reviews the stationing of lifeguards.
Lifeguard supervisor, Rob Stuteley, said they regularly reviewed their cover based on expected water use.
"We have seen an increase in water user and concessions particularly down at St Ouen," he said.
"Given the water use we have been seeing in Jersey, during half-term and Easter, there is a lot more water use and we feel it is a good decision to give extra cover during those times.
"The lifeguard will then come off the beach and start their full season in May."
He said there would still be no lifeguard cover on beaches on the island during the autumn half-term week.