Jersey Gas fined £65,000 after fire in St Helier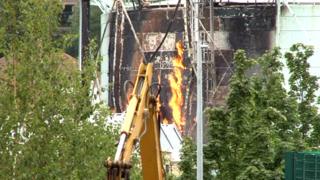 Jersey Gas has been fined £65,000 by the island's Royal Court after health and safety breaches led to a fire.
The blaze in July 2012 led to hundreds of people having to leave homes and businesses for up to 24 hours during the fire in Gas Place, St Helier.
The fire started when electric tools being used to repair a leak ignited the flammable gas.
The company admitted breaches of health and safety laws and was also ordered to pay legal costs of £11,000.
Jersey Gas admitting failing to carry out risk assessments, failing to provide a safe system of work and failing to provide adequate health and safety training, instruction and supervision to its employees.
The court said the most serious part of the complaint was the "extent of danger to which employees and members of the public were exposed".
However, it took into account the "exceptional level of co-operation" given by Jersey Gas.
David Edwards and Justin Paul, who were carrying out the repairs and are still employed by the company, received minor burns in the incident.
The pair were using an electric construction screwdriver and electrical leads for the repairs.
Eyewitnesses described a "huge bang" and a "fireball shooting up into the sky".
The storage device was decommissioned later the same month after the remaining gas had been burned off under control.