Blue Islands suspends Jersey to Southampton flights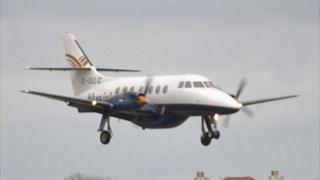 Blue Islands is suspending its Jersey to Southampton service until further notice, after finding a buyer for two of its planes.
The Guernsey-based airline has been selling off its Jetstream aircraft and replacing them with larger ATRs.
The final flight is due to take place on 16 November.
A Blue Islands spokesman said passengers would be accommodated on Flybe flights and they would be contacted by both airlines.
Rob Veron, managing director, said: "Whilst it is with great regret that we need to suspend our Jetstream Southampton service, it is key to our sustained business success that we migrate to a single ATR fleet type.
"We are currently reviewing next year's ATR fleet activity and aircraft availability which could well see us return the Southampton service next summer."
He said the airline was "100% committed to Jersey".