Jersey observes Remembrance Day with wreath-laying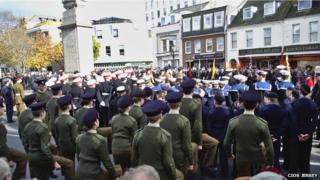 People across Jersey have remembered the victims of war on Remembrance Sunday.
Traffic was stopped as hundreds attended the island's main service at the Cenotaph.
Veterans and dignitaries held a wreath-laying ceremony after parading through the town centre.
A cannon was fired to mark the beginning and end of a two minute silence.
Churches around the island also held services to mark Remembrance Sunday.
This year marks the 100th anniversary of the start of World War One.
It is also 70 years since the D-Day landings, and the year Britain ended its combat role in Afghanistan after 13 years of fighting.