Jersey victim says dropped abuse case was 'devastating'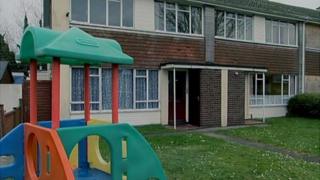 Dropping a court case against the managers of a family group home in Jersey left one victim "devastated and angry", the Jersey Care Inquiry heard.
Known as "Miss K", the woman was six when she went to the Blanche Pierre home, run by Allan and Jane Maguire.
Mr and Mrs Maguire were accused of abusing residents but a case against them was dropped in 1998.
Allan Maguire died in France in 2009 and BBC News has been unable to contact Jane Maguire.
At the time, police and court officials felt there was not enough evidence against the couple and witnesses were unreliable.
Miss K was one of a few victims who gave evidence at a preliminary magistrates' court hearing, before the case was dropped.
She said: "It was devastating, it had taken a lot to open up about what happened. Even then we knew something was up, it just wasn't right.
"They said it was our word against theirs, because we were so young and were self-harming, they didn't think we would be able to handle going to the royal court."
The decision had a negative impact on Miss K, who said she was already vulnerable. She was drinking heavily, violent and self-harming.
A second investigation in 2008 led to the victims asking that the States of Jersey and Jersey Police not be involved in the case as they did not trust them.
The hearing was shown a report by two officers, one from the States of Jersey Police and the other seconded to the island force, brought in to speak to the victims, ahead of a possible prosecution.
In it they talked of a psychiatrist's report on the victims before the original case in 1998. It said heavy drinking, self-harm and aggression shown by the victims, were signs of childhood abuse.
These were the reasons given why the girls would not make reliable witnesses in the original case.
In 2008, the two officers investigating said the decision to abandon the earlier prosecution was wrong.
No prosecution could be brought again in 2008.
The inquiry continues.
This story was changed on 28 November 2014 to make it clear it was officers from the States of Jersey Police who carried out the investigation in 2008.