Expert says Jersey Celtic necklace is 'biggest discovery'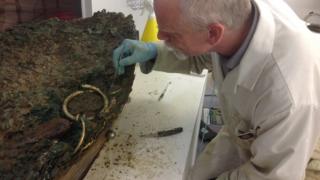 A rare gold necklace discovered among Jersey's Celtic coin hoard has been described as "the discovery of the project so far".
In the process of separating the 70,000 coins contained in the hoard, senior conservator Neil Mahrer discovered six gold necklaces.
Mr Mahrer said one of them, a large gold torque in two parts, is very rare.
The hoard was uncovered in 2012 by two metal detector enthusiasts, Richard Miles and Reg Meade.
Mr Mahrer said there could be more items of jewellery within the mound, but separating it all will take about three years.
Worn by royalty
He said: "In terms of its importance, there are about 150 Celtic torques known in the world and we have found six here in an area you could fit in your hand."
The large torque is thought to be of a type worn by royalty.
Mr Mahrer said: "We began by planning to extract the torque we could see on the surface and in doing that we uncovered one we didn't know on top of that.
"In clearing to get that one out we uncovered a big torque and cleaning around the corner of that we found a sheet gold one.
"The process just goes on and on. We don't know what we are going to see."