Medicinal cannabis call rejected by States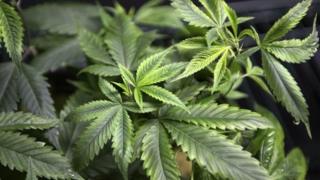 States members have voted down three requests from chronically ill islanders to have cannabis-related products for medicinal use.
They were named in separate propositions requesting permits for Sativex, Bedrocan BV and cannabis.
Health minister Andrew Green said Sativex was already available on private prescription.
He said his power to grant such permits was not intended for medicinal cannabis use.
Jersey's drugs laws allow the health minister to issue licences for the possession of cannabis for "special purposes".
---
What were they talking about?
Deputy Montfort Tadier lodged three propositions naming chronically ill islanders Evelyn Volante (pictured), Ann Hill and Katie Le Texier.
Cannabis - Evelyn Volante, who has severe digestive problems, wanted a permit to make it legal for her to possess the Class B substance cannabis for pain relief
Sativex - Ann Hill, a multiple sclerosis patient, asked to be prescribed and supplied with Sativex - a legal, cannabis-based medication - and for the drug to be made more widely available in Jersey
Bedrocan BV - Katie Le Texier, who has fibromyalgia, wanted a permit that would allow her to be prescribed Bedrocan BV, which is cannabis legally grown in medical-grade conditions in the Netherlands
---
Senator Green said his power to grant cannabis permits was identical to little-used powers available in the mainland.
UK authorities have only granted such permits for industrial hemp production, he said.
"It is unlikely that 'special purpose' was ever intended to cover medicinal use," said Senator Green.
"While the law allows for the minister for health and social services to issue a licence for research and special purposes it does not provide for the minister to step into the shoes of a doctor and, in effect, take clinical decisions in respect of an individual case."
Regarding Sativex, Senator Green said because it was already available privately Ms Hill was essentially asking the States to pay for the drug, which had already been refused on cost grounds.
He said Sativex would cost up to £5,000 per year per patient.
Deputy Tadier said: "We did not succeed but we will keep fighting."