Port Galots marina plan sparks 'most complaints ever'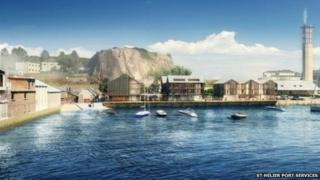 A proposed marina development in St Helier has attracted a record-breaking number of objections.
More than 1,300 islanders have objected to plans for flats and a marine centre at Les Galots.
Planning officials told BBC News it was the most objections they had ever received.
They normally send letters to objectors but say in this case they are unable to because of the sheer number.
The Port Galots project - to be built on States-owned land - includes 18 flats, new headquarters for the Jersey Sea Cadets, a marine academy and an enterprise zone.
Opponents say it will be an eyesore and damage existing businesses.
Peter Le Gresley, of the planning department, said: "As of this morning (Wednesday), we have received 1,325 representations, which would cost around £2,000 in postage alone to send our usual replies.
"We don't think this is a wise use of public money.
"We are asking members of the public to keep an eye on our website."
The developers, St Helier Port Services, will explain their plans to members of St Helier Yacht Club on Wednesday evening.
The company says it has conducted "extensive consultations".