Warnings as Channel Islands braced for 'weather bomb' gale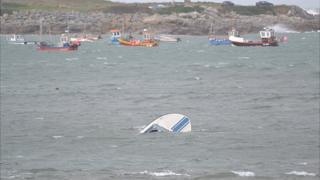 The Channel Islands face high winds and disruption with gales potentially hitting 70mph (112 km/h) later.
Guernsey Harbour officials warned boat owners to make sure vessels are securely tied up, and pumped out, after a pleasure craft sank at St Sampson.
A Condor ferry was forced to take refuge off Jersey's east coast on Thursday morning as high winds lashed the west.
Jersey's Met Office said 30ft waves have been recorded five miles offshore.
Condor Ferries said the fast ferry sailing to the UK on Friday had been cancelled while freight ferry sailings would be delayed.
Winds were expected to rise to 70mph overnight.
Sarah Weber, a Jersey Met Office forecaster, said the effects of the so-called "weather bomb" should clear the Channel Islands by Friday afternoon.
"The term weather bomb is really a colloquial term," she said.
"We would call it a 'rapid or explosive cyclo-genesis', which is when a developing low pressure system deepens by at least 24 milibars in 24 hours.
"That's what this is expected to do, so you could call it a weather bomb."