States demand 'Kirch voucher' receipts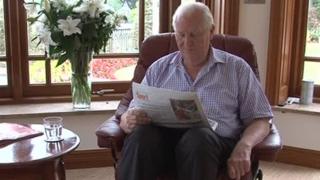 Relatives of elderly islanders in care have been told to list items bought with Christmas vouchers from philanthropist Sir David Kirch.
Since 2005, Sir David has given £110 in vouchers to islanders over 70.
At least one home, Lakeside Care in St Peter, has written to relatives telling them to account for vouchers spent on behalf of residents.
Barchester Healthcare, which runs Lakeside, said it was following instructions from health officials.
One islander said he was "afraid" to spend the vouchers, but health minister Andrew Green has defended the rules.
Islander Andy Le Seelleur collected the Co-op vouchers from care home staff on his father's behalf.
"This is the first time since the vouchers came out that I've seen a letter like this," he said.
"I was a little bit surprised that [the health department] and the residential home had taken this stance of requiring a full audit of invoices and receipts."
Mr Le Seelleur said his mother was in a different care home which had not sent such a letter.
"It's confusing, it makes us nervous about what we can actually do with the vouchers," he said.
BBC News has seen the Lakeside correspondence demanding itemised accounts, and a letter from Health and Social Services to Jersey care home managers.
Senator Green said the measure was "no big deal".
"I think it's perfectly reasonable if someone is spending money on behalf of someone who a third party has a responsibility of care for, that we must be able to account for their assets," he said.
Sir David offers the vouchers regardless of circumstance and in 2013 was named Britain's top philanthropist in the Sunday Times Giving List.