Jersey swimmers take to the water on New Year's Day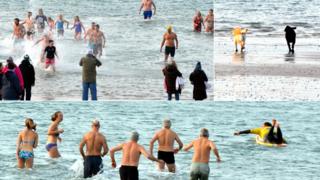 Dozens of people took to the sea in Jersey on New Year's Day to raise money for charity.
About 50 people braved the chilly water at the Marine Lake in St Helier to raise money for care home Les Amis and the Jersey Aquatic Rescue Club.
One swimmer said: "It was freezing, I just ran in, got my head down and just ran back out."
Long distance swimmers also took to the water at St Catherine to raise money for CLIC Sargent Jersey and the RNLI.
The Jersey Long Distance Swimming Club organised the St Catherine swim, followed by soup and bread in the cafe afterwards.
A spokesman for the group said 24 people entered the water, raising about £200 for the charity, describing the water as "very cold".