Jersey reported crime drops 50% in 10 years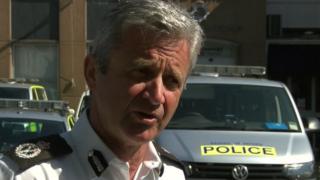 Reported crime in Jersey dropped by more than half from 6,340 cases in 2004 to 3,100 in 2014, says the island's police force.
Figures released for 2014 showed the lowest level of reported crime since records began 23 years ago.
They also showed the total number of crimes reported was down 3% on 2013.
Chief Officer Mike Bowron said police had also dealt with a "huge increase" in concerns for welfare and missing people last year.
Last year officers went to more than 1,100 cases of domestic abuse, a rise of 6% on 2012.
The police force's annual report is due out later this year but it released a summary of crime figures in advance.
Mr Bowron said: "We will work hard to continue to make those who do have concerns feel safe by addressing what is important to them and any fears they have."
Crime in Jersey
Burglary was down 13% from 203 in 2013, to 176 in 2014
Theft was down 15% from 1,045 in 2013, to 892 in 2014. This includes theft from vehicles down 35% and bike thefts down 14%
Serious road traffic collisions were down 27% from 62 in 2013 to 45 in 2014.