Haut de la Garenne worker 'rubbed girl's face in urine-soaked sheets'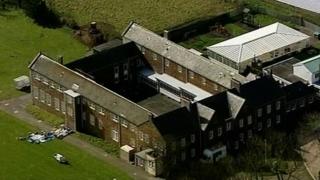 A woman who worked at Haut de la Garenne children's home rubbed a girl's face into urine-soaked sheets, the Jersey Care Inquiry has heard.
Anthony and Morag Jordan, assistant house parents at the home, were jailed in 2011 for their part in the children's abuse.
The panel heard Morag Jordan was a "cold woman" and would hit the children with her hand.
Anthony Jordan also hit children with a metal spoon, a knife, or with his hand.
'Being cheeky'
Giving evidence, one victim said Mr Jordan would hit him for different reasons, ranging from leaving the table without asking to being cheeky.
Morag Jordan was given a nine-month term in 2011 for assault in the 1970s and 1980s.
Her husband, Anthony Jordan, was sentenced to six months for eight charges involving two boys.
Patrick Sadd, counsel to the inquiry, said Mrs Jordan would regularly strike three girls on her head or face with her hand.
Some of the work references put forward for her at the home were also read to the inquiry.
The panel heard she was employed as a nursery nurse at Haut de la Garenne in 1970.
She was described in one reference as having "a delightful personality and a sense of humour" while another said she had "patience and adaptability as well as an easy, friendly approach to children."
The Independent Jersey Care Inquiry is investigating child abuse in Jersey's care system since 1945.
It is focusing on, but not restricted to, the Haut de la Garenne care home during the 1960s.
The inquiry continues.