Marilyn Monroe, Churchill and Hitler memorabilia in collection to go on sale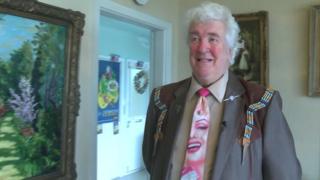 A collection of rare memorabilia worth about £10m is to be sold to raise money for charity.
Jersey collector David Gainsborough Roberts has spent his life collecting everything from Marilyn Monroe's bra to paintings by Winston Churchill.
He said: "I have been collecting for many years, I'm 70 years of age now, I don't have a wife and children so I thought I must sell things."
Mr Gainsborough Roberts says he hopes to use the money to help people
He says the collection - most of which is linked to celebrities - includes Billy the Kid's guns, paintings by both Churchill and Adolf Hitler and Marilyn Monroe's dresses.
He said because he does not have an immediate family to leave it to he does not want people sorting his estate to sell things off for less than they are worth.
An expert in Marilyn Monroe, he said the auction will be held next year around the time of her 90th birthday and that some items will go for a lot of money.
He said: "I should have concentrated on one subject, then I would be a great authority on that subject, but I started with Marilyn then theatrical things, royalty, Churchill, Third Reich items.
"I should have concentrated more. I have got a lot of big things out there which I hope people will love and buy."
Items in his collection signed by Hitler and other objects from the Third Reich are unlikely to be sold in the UK.
Mr Gainsborough Roberts said he thought auction houses in the UK would not touch items from the Nazi period but they would go for a lot of money.
He said: "I have got pieces signed by Adolf Hitler to his wife, I have a lot of her stuff and a lot of things she left to her sister.
"Fascinating, interesting things of the most evil regime, I'm not a fascist but they fascinate me because they were so evil."
The proceeds of the auction will be given to family, fund his own care as he gets older and go to a number of Jersey charities, including the Jersey Heritage Trust.
Mr Gainsborough Roberts said: "I love Jersey, I have been here since 1964, it is where I grew up and am in the same house I've been in all these years.
"When I pop off I would like to give something back to Jersey which has been kind to me. I have a lot of friends here and would like some of them to benefit from what I've got."