Jersey animal law change to help wildlife groups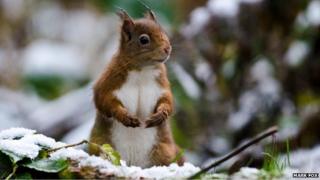 Vets and conservation workers in Jersey are to be able to take blood from rare animals, after a law change.
Legislation from 2004 had barred vets from taking a blood sample for any reason other than a diagnosis or monitoring.
But, now organisations like the Durrell Wildlife Conservation Trust, can take them to help conservation work.
A States of Jersey spokesman said: "This work is necessary because there are no established standards."
Durrell head vet Andrew Routh said the new law will make it easier to understand endangered species and treat them when they are sick.
He said: "We are working with very rare species here and if for example you take your dog to the vets then they say we will run blood tests, they have a huge database that covers all manner of tests.
"We are having real difficulty in finding 'normals' for some of our species and the current legislation means we can't catch a normal animal for blood sampling to compare with an animal we believe to be ill."
Mr Routh said there were a number of local species it will help including red squirrels and the scheme to re-establish bird, the chough.
The change means the environment minister will be able to grant an organisation the right to carry out certain minor procedures to provide information on minority species.
Deputy Steve Luce, said: "By establishing what is normal, particularly for a rare creature, the organisation can build up a clearer picture of how best to care for and conserve other endangered animals of this species and type."