Worker treated after garage fire in Jersey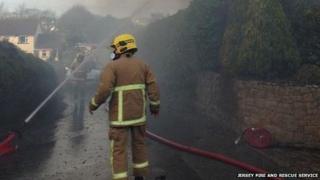 A man has been treated for the effects of smoke inhalation after a fire broke out at a garage in Jersey.
The fire started at about 10:20 GMT in the vehicle workshop off the La Ruette de la Carrière in St John.
Three people were in the building at the time, said Jersey Fire and Rescue Service, and one was treated at the scene by paramedics.
The fire is now under control and firefighters have been cooling a number of acetylene cylinders in the garage.
The cause of the fire, which ripped through an asbestos roof, is being investigated.