Critically-endangered ploughshare tortoises released by Jersey charity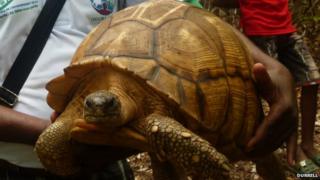 Twenty critically-endangered tortoises have been released into the wild on Madagascar by a Jersey charity.
Jersey's Durrell Conservation Trust said the release of the captive-bred tortoises meant it had now introduced 100 of the animals into the wild.
The ploughshare tortoise - or astrochelys ynophora - exists only at a single site on the African island.
They are sought after as exotic pets and because of their high domed shells.
Richard Lewis, Durrell's Madagascar programme director, said: "For me personally this was the fruition of ten years' hard work. When Durrell first proposed the idea of releasing ploughshares, many experts said that it couldn't be done.
"We had to make the rule book ourselves, and to date this release is still one of the few successful tortoise reintroduction projects in the world."
The charity believes there are approximately 400 ploughshare tortoises in Madagascar and said the scale of poaching still "threatens the future existence of the species".
Durrell helps to protect the tortoises from smugglers by marking their shells.