Jersey care inquiry: Teenage abuser kept at care home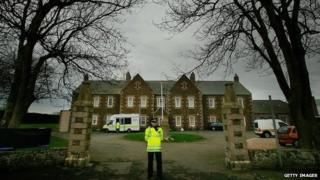 A teenager accused of abusing children at the Haut de la Garenne home in the 1980s was kept there against the wishes of its manager, the Independent Jersey Care Inquiry has heard.
The 15-year-old boy was instead locked up every night in a detention room, the inquiry was told.
The home's superintendent Jim Thomson wanted the teenager removed from the home, records revealed.
But he was overruled and told removing the boy from care would "damage him".
'Disturbed pervert'
Now in his 40s, the then teenager's evidence was read to the inquiry by counsel Paul Livingston.
The inquiry heard the teenager spent his entire childhood in care and told the historical abuse redress scheme he too was abused in foster care as a young boy.
By the time he was 15, however, serious allegations had been made against him.
He was accused of making sexual advances towards young boys and girls and of engaging in sexual activity with a 10-year-old fellow resident.
Officials believed those allegations, with one memo describing the teenager as a "disturbed pervert".
Lodgings found
According to records of meetings at the time, Mr Thomson wanted the teenager removed from the home and told colleagues protection of younger residents was his main concern.
However, children's services decided the boy should be locked in a detention room every night while an advert seeking lodgings for him was placed in the Jersey Evening Post.
Lodgings were eventually found, although records do not show if the hosts were informed of the teenager's background.
The inquiry has heard from witnesses who highlighted abuse of residents by other residents, as well as by staff.
Many records and memos shown to the panel suggest officials were actively trying to manage and monitor the home and its residents by the early 1980s.
However, witness testimonies suggested those efforts were not enough to prevent serious abuse.
The Independent Jersey Care Inquiry is investigating child abuse in Jersey's care system since 1945.
The inquiry continues.