LibertyBus fares in Jersey to rise by 20p from March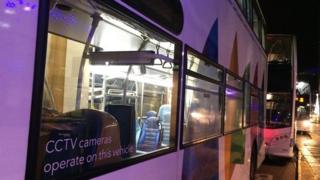 The cost of travelling by bus in Jersey is to go up by 20p per journey from March, LibertyBus has confirmed.
The fare increase only applies to cash journeys. The price for people using a pre-paid Avanchi card depends on the journey length.
People using an Avanchi card for longer journeys will see a cut from £1.80 to £1.60 but for shorter journeys it will rise from £1.20 to £1.30.
The cash fare will be £2 for longer journeys and £1.50 for shorter routes.
Kevin Hart, general manager of LibertyBus, said they planned to introduce a single island-wide fare for pre-pay users.
"The results of the independent LibertyBus customer satisfaction survey in 2014 and lots of customer feedback indicated that there is a demand for one flat fare Island-wide," he said.
"As the first step towards this goal, we have changed the fare structure on the Avanchi Card Pay-as-you-go".
FARES FROM 1 MARCH
CASH FARE
BAND A
£1.50
BAND B
£2
STUDENT/CHILD
£1
AVANCHI FARE
BAND A
£1.30
BAND B
£1.60
STUDENT/CHILD
75p