Former Jersey politician John Farley dies aged 87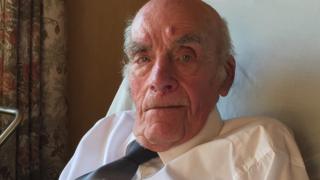 Tributes have been paid to a former Jersey politician and charity worker who died in his sleep aged 87 after a long illness.
John Farley, who died on Monday, was described by friends as a helpful, hard-worker who loved his community.
He ran the Red Triangle Stores in the Central Market and was doing paperwork from his bed until the day he died.
He was made a MBE in the New Year's Honours list for his work with charities and amateur dramatic groups.
His son, Kevin Farley, who currently helps run the Red Triangle Stores, said he made a big contribution to Jersey.
"He came to work at the Red Triangle stores in 1953 for six weeks. During that six weeks he met my mother and ended up not emigrating to Australia as was his original plan," he said.
He added that his father "was involved in numerous organisations" including the Battle of Flowers for 60 years.
Tony Perkins, from the Jersey Battle of Flowers Association, said John Farley was dedicated and hard-working.