Former Jersey pupil defends accused teacher Mario Lundy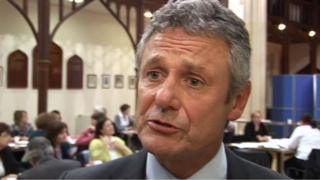 A former pupil of a secure residential school has defended a former education department boss who has been accused of abusing children.
Edward Walton was a resident at Les Chenes secure school in the 1970s when Mario Lundy was deputy head.
He described Mr Lundy, who has faced abuse accusations from a number of witnesses at Jersey's care inquiry, as a "diamond".
Mr Walton credited the former teacher with helping him to launch his career.
New allegations
Mr Walton, who now owns a business in Australia, said Mr Lundy had helped him on his path into the building trade.
Giving evidence by video link, Mr Walton said he would have flown round the world at his own expense to defend Mr Lundy.
Another witness, William Dubois, made new allegations against Lundy.
He said Mr Lundy beat him in both Haut de la Garenne children's home and Les Chenes during the 80s, after Mr Walton would have left care.
The inquiry, which is investigating claims of child abuse in Jersey's care system, continues.