Jersey inquiry: Child abuse rally remembers victims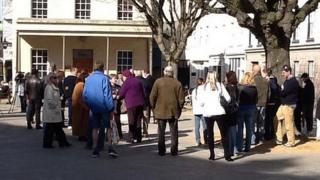 Victims of child abuse have been remembered in a rally in Jersey.
The gathering called 'Time4Change' was held in St Helier's Royal Square.
The first rally was held in 2008 when abuse allegations at the Haut De La Garenne children's home dominated headlines in Jersey and across the UK.
The second rally held earlier marked the completion of the first phase of evidence in the Independent Jersey Care Inquiry which is investigating child abuse.
Those attending the rally held daffodils to represent a new beginning for the victims.
The abuse inquiry is focusing on - but is not restricted to - Haut de la Garenne during the 1960s.
The next phase, in May, will hear from those who worked in Jersey's children's services and those accused of abuse.