Jersey minister to consider ban on drivers using mobiles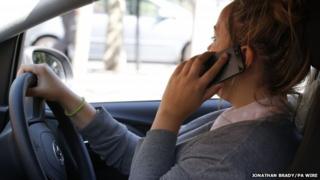 Drivers who persistently use a phone while driving should lose their licence, according to Jersey's home affairs minister.
The States of Jersey police say 377 offences of using a mobile phone while driving were recorded in 2014.
Deputy Kristina Moore said the current fine was £500 but it would be right for that to increase.
She said: "For repeat offenders, I think it would be appropriate for disqualification to be considered."
Home Affairs and the Transport and Technical Services department are working on a new Road Safety Strategy which could include measures for mobile phone use.
Road safety campaigner, Paul Newman, said the ban on mobile phones while driving was being ignored.
He said: "Road safety is low priority to the State and to the public.
"Driving is more complex than it has ever been with in-car distractions but nobody is taking any notice. Nobody is trying to achieve anything."
Jersey introduced a ban on holding a phone while driving in 1998, the first place in the British Isles to do so.