Jersey politicians reject extra Liberation holiday call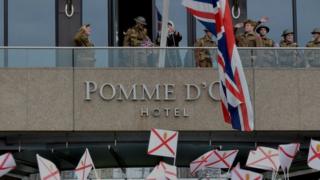 There will be no extra public holiday for Liberation Day after politicians rejected a proposal by a St Helier deputy.
Deputy Sam Mezec of Reform Jersey called for the extra day because Liberation Day on 9 May, falls on a Saturday in 2015.
He said the 70th anniversary was an important one and the extra day would give people time to celebrate.
But, members rejected the proposal, 33 votes against, to nine in favour.
Deputy Mezec said: "A longer weekend provides more time to pack more in, to draw people into the island. The opportunity that that would present to tourism should be seized."
The Channel Islands were the only part of the British Isles to be occupied by Germany during World War Two.
Chief minister, Senator Ian Gorst, said he could not support the proposition as Liberation Day should always be marked on 9 May, regardless of the day it falls on.
Liberation Day marks 9 May 1945 when the island was freed from German occupation after five years.
The liberating soldiers raised the union jack from the former German headquarters, which later became the island's tourism building.
The soldiers then flew a flag from the balcony of the Pomme d'Or, to the delight of the cheering crowds.