Jersey States say no compensation for fraud investors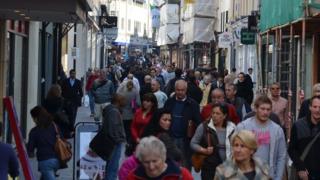 People who lost thousands in a property scheme will not get compensation, the Jersey Council of Ministers has ruled.
Investors lost hundreds of thousands of pounds nearly 10 years ago when a group of financial advisors used the money to pay debts instead of buying property.
They were jailed in 2012 and a review said five out of 50 investors were eligible for government compensation.
Chief Minister, Senator Ian Gorst, said it was not fair to give compensation to some people but not others.
Millions of pounds was invested in property speculation in Florida and Colorado by three Jersey financial advisors and a former magistrate.
'What is the point?'
Former magistrate Ian Christmas, along with financial advisors Russell Foot, James Cameron and John Lewis were jailed for fraud.
Since then a group of those who lost money have been trying to get compensation and last year the former UK financial ombudsman David Thomas suggested some might be eligible.
He looked at whether the Jersey Financial Services Commission should have been aware sooner about irregularities.
He found only five out of the 50 investors were eligible for a one-off payment but the Council of Ministers decided it was not fair to pay only them and not others who may have suffered financial hardship.
Jenny Sandall, who lost her retirement funds in the fraud, said she would fight on for compensation and to recover the money lost, as it had a devastating affect on her and her family.
She said: "I have worked like everyone to make sure when you retire you receive a pension and comfortable living, I have worked since I was 15 years old and at the end of it somebody has just taken everything.
"If you can imagine that, what is the point of it all? That is how devastating it is."