Plemont headland: Demolished and archaeological examination to take place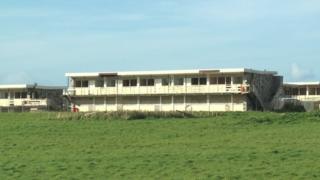 The final part of the former holiday camp site at Plemont has been demolished and archaeologists will now examine the area.
The park was sold in a multi-million pound deal to be demolished by spring 2015 allowing the National Trust to restore the site.
In July The Plemont headland became the property of the trust after a hearing in Jersey's Royal Court.
It said it would convert the ex-Pontins site back to a natural environment.
The National Trust for Jersey bought it with help from the States of Jersey after years of debate.
The chief officer for the National Trust for Jersey, Charles Alutto, explained why there was archaeological interest in the site.
"This site is known for a number things, it was a flint knapping site, so there is archaeological interest in that sense, also there were rumours of a burial mound here, and it was a site that was used as a beacon, a signalling site," he said.
"It's the highest point of the site so we want to make sure there is nothing remaining there."