St Saviours Road fire: Rescued man in 'stable condition'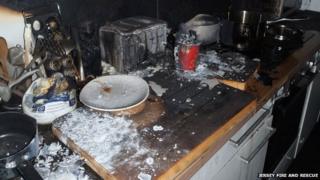 A man rescued by firefighters from a block of flats is in a "stable condition" in intensive care, according to a health spokesman.
The man, aged 28, was "unconscious, not breathing and had no pulse" when removed from the flat by firefighters.
He was treated at the scene by paramedics before he was taken to the Jersey General Hospital in St Helier.
Adults and children from the flats on St Saviour's Road, Jersey, were evacuated to a nearby hotel.
Firefighters went through "thick, black, acrid smoke" to rescue the man, who has not been named.
The fire service said the initial investigation indicated the fire started from cooking "left unattended".